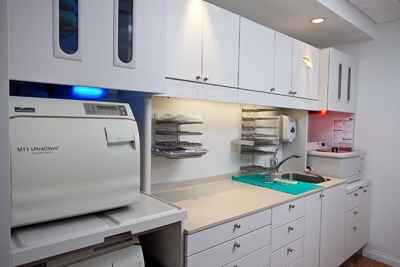 Your personal protection and well-being are paramount at Riverside South Dental Centre.
We want to remain completely transparent when it comes to how all our instrumentation is managed.  That's why our Steri-Centre is located behind a Plexiglas wall for all to see. Pass by and see it for yourself.
The red zone indicates where used instruments start to be cleaned using procedure specific instrument cassettes and a state-of-the-art instrument cleaner (resembles a stainless steel dishwasher) to effectively remove bio burden.  This is followed by wrapping, labelling and autoclave sterilization to destroy all life forms.  We even test for spores routinely to determine the continued effectiveness of our sterilization process.  We also offer high speed sterilization – achieving sterilization in 3 minutes.
When the sterilization cycle is complete, your instruments will be placed in the blue zone and will not be unwrapped until you are seated in our treatment chair – your assurance of protection.
All instrumentation, including hand pieces, is sterilized.  All plastics, papers, cups, bibs, tray liners etc. are for one time usage and are discarded immediately after usage.
If you have any questions about instrument management or would like a tour of this area, Dr. Ohanian and Associates welcome your inquiry.