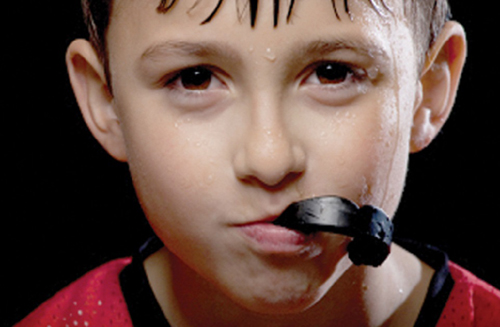 Protect your teeth; your smile is a valuable asset!
Protect your smile and help prevent concussions, neck injuries and dental trauma by wearing a professionally made sports guard while playing contact sports from Riverside South Dental Centre.
A single blow to the mouth or jaw can cause serious dental damage that can be very painful and expensive to treat. You can minimize the risk of this type of injury by using a sports guard when you take part in sports and other recreational activities.
Sports guards are custom made appliances that fit over your teeth and are designed to absorb shock. When worn during sports activities, sports guards help protect against injuries to the teeth and jaw joints and reduce shock from spreading to your cranium that may be connected to concussion.
Aside from shock absorption, sports guards can protect against chipped, broken or traumatized teeth that may otherwise require root canal treatment and further restoration and expense.
Related Dental Emergencies Articles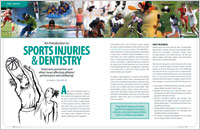 An Introduction to Sports Injuries & Dentistry
Dental injuries incurred during sports activities are highly treatable, and can involve positive outcomes if participants act quickly to see a dentist after an injury. However, if not treated quickly these kinds of injuries can lead to discomfort, embarrassment and a lifetime of dental costs… Read Article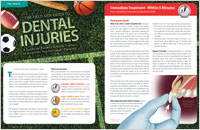 The Field-Side Guide to Dental Injuries
Accidents to the teeth, jaws and mouth can happen at any time during any sporting activity. Proper attention can save pain, alleviate anxiety and costly dental treatment. A little knowledge, as they say, can go along way. This field-side guide briefly explains some simple rules to follow when dealing with different dental injuries and when you need to see the dentist… Read Article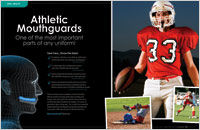 Athletic Mouthguards
There are times when an athlete can feel invincible… able to connect on every jump-shot, run faster and longer, or hit every pitch, but statistics show that even on their best days accidents can happen. An ounce of prevention goes a long way… For a small cost, a protective mouthguard can prevent excess anxiety, risk, injury, pain, suffering, and years of dental treatment… Read Article