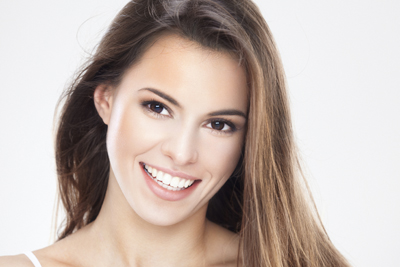 Transform your smile today!
Porcelain veneers are an excellent method of restoring your smile.  Lasting, durable and esthetically beautiful, they are well suited to both men and women who wish to improve the appearance of their smile.
Veneers are thin shells of porcelain that are bonded onto the front surfaces of teeth.  They are custom crafted by hand to precisely fit your teeth by a highly experienced dental technician.  Once bonded to your teeth, they are strong and virtually undetectable.
Veneers offer so many dental esthetic solutions including:
Closing spaces between teeth
Lengthening and widening teeth
Whitening the shade (colour) of teeth
Creating the appearance of perfectly straight teeth
Creating a broad smile (movie star smile)
Dramatic results in as few as 2 appointments
Veneers often only require minimal tooth preparation, conserving natural tooth structure.  They are often used in full mouth rehabilitation treatment and render beautiful, often dramatic smile transformations.
Veneer dentistry surprises and delights people when they see their new smile for the first time!
At Riverside South Dental Centre, Dr. Ohanian and Associates would be pleased to evaluate your smile and help determine if veneer dentistry would be right for you.
Related Porcelain Veneer Articles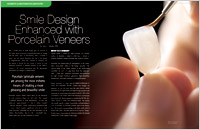 Smile Design Enhanced with Porcelain Veneers
In part two of the series on Smile Design, Dear Doctor takes an in-depth look at Porcelain Veneers, a superior yet minimally invasive technique for smile enhancement. We'll explain not only when they're appropriate, but also when they're not… Read Article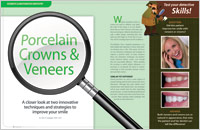 Porcelain Crowns & Veneers
A closer look at two innovative techniques and strategies to improve your smile. In many instances these two restorative techniques can produce nearly identical esthetic results, even though they are structurally different… Read Article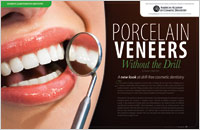 Porcelain Veneers – Without A Drill
No drilling — reality or ridiculous? A no-drill technique requires a second look, as new materials and concepts have created new esthetic possibilities. Reactions and opinions among dentists have ranged from absolute disbelief to moderate acceptance. This article gives hope and reasons for patients to get excited about this conservative drill-free cosmetic technique… Read Article