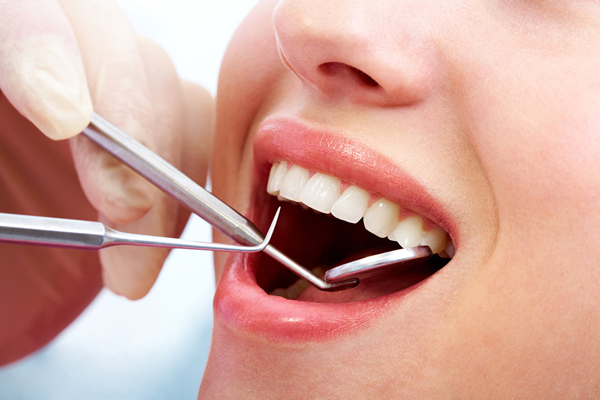 More people lose their teeth due to periodontal disease than for any other reason. Periodontal disease, also called gum disease, is an infection of the gums, ligaments and bone that support your teeth. Gums infected with periodontal disease are toxic reservoirs of disease-causing bacteria. Bleeding gums can create an opening that allows these bacteria to enter your bloodstream and advance to your heart and other organs. There is mounting evidence that connects periodontal disease to heart infection and stroke.
What is the treatment?
If you have been diagnosed with periodontal disease, our hygienist may recommend a period of Active Therapy – a schedule of organized treatment focused on arresting this disease. Details including treatment benefits, home care and fees will be explained. Working with your consent and values, we decide together how best to treat and manage this disease.
At South Riverside Dental Centre, our goal is to help you retain your teeth for life. Ask about our soft tissue LASER, used to arrest disease causing microorganisms and initiate the healing of periodontal tissues. We are very pleased to offer this front line defense against gum disease.
Related Periodontal (Gum) Disease Articles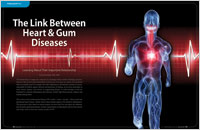 The Link Between Heart & Gum Diseases
Inflammation has emerged as a factor that is involved in the process of Cardiovascular Disease (CVD), which commonly results in heart attacks and strokes. While the precise role inflammation plays in causing chronic CVD remains an area of intense current investigation, much more is now known. The good news is that, based on current research, we know that if we can reduce the inflammation caused by periodontal disease, we can reduce the risk for heart attacks and strokes… Read Article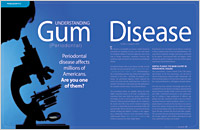 Understanding Gum (Periodontal) Disease
Have your gums ever bled when you brushed or flossed? This most commonly overlooked simple sign may be the start of silent (periodontal) disease leading to tooth loss. Learn what you can do to prevent this problem and keep your teeth for life… Read Article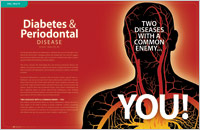 Diabetes & Periodontal Disease
Diabetes and periodontal disease are chronic inflammatory diseases that impact the health of millions of people. What you may not know is that diabetes and periodontal disease can adversely affect each other… Read Article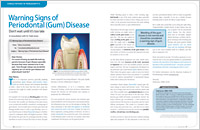 Warning Signs of Periodontal (Gum) Disease
This article provides the warning signs of periodontal (gum) disease. Don't wait until it's too late… Read Article