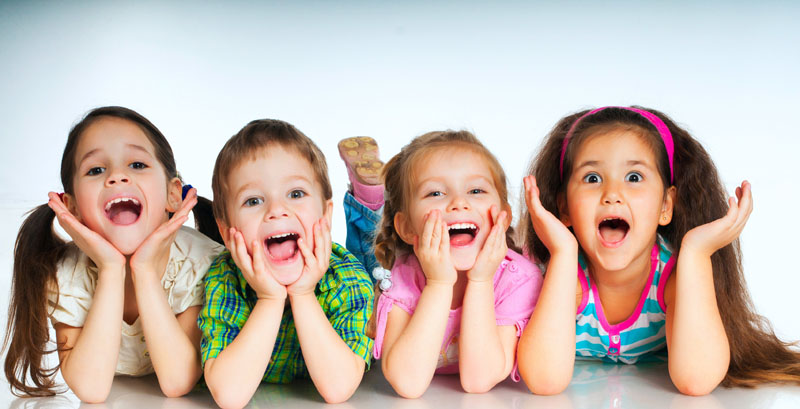 Children are a wonderful addition to our family oriented dental practice.  We take care to ensure that your child's experience with us imparts a feeling of trust and security leaving them feeling comfortable and open to learning and caring about their teeth.
At Riverside South Dental Centre, our dental team has built an excellent reputation for our patient and caring manner towards children – taking extra time and care to help children become familiar with our dental environment. Fear and uncertainty are quickly replaced with curiosity and compliance with our gentle approach.
During their visit, children can enjoy their favorite DVD on a flat screen located on the ceiling while listening to headphones.  Then before they know it, it's off to choose a treat from the treasure tower!
At what age should I bring my child to see the dentist?
"The Canadian Dental Association recommends the assessment of infants, by a dentist within six month of the eruption of the first tooth or by one year of age."
Therefore, you can bring your children for an examination as soon as their first tooth appears or by 12 months – so that infant tooth decay can be prevented or detected.  We'll review how to care for  your baby's teeth while providing you with the tools to maintain optimal oral health care at home.  At Riverside South Dental Centre, we can educate you  on what to expect in terms of the eruption of primary and permanent teeth and review the effect of diet and carbohydrates on your baby's teeth.
The goal is to have your child visit the dentist before there is a problem with your child's teeth. In most cases a dental exam every 6 to 9 months will let your child's dentist detect issues early.
Children are growing and changing so rapidly, we pay special attention to the eruption of permanent teeth, growth and development of facial bones and dental aesthetics and function.  We monitor the effects of oral habits including baby bottles, pacifiers and thumb or finger sucking so that we can be proactive in the prevention of any oral health concerns. In these ways, we optimize facial and dental aesthetics and minimize expense and treatment where ever possible.
Our experienced hygienists will patiently treat your child through education, understanding and positive reinforcement to help establish good oral hygiene practices, while making the visit a positive and encouraging one.
At the Riverside South Dental Centre, we pride ourselves on individualized patient education. We are pleased to answer any questions you may have regarding your child's oral health and hope to build and maintain your trust and confidence in the care we are providing your child.
Related Children's Dentistry Articles
Dentistry and Oral Health for Children
As part of our special section on oral health topics affecting kids, Dear Doctor brings you this wide-ranging overview of milestones and transitions in your child's dental development. Learn how to protect your children from tooth decay, dental injuries, and unhealthy habits while getting them started on the road to a lifetime of oral health and general well-being… Read Article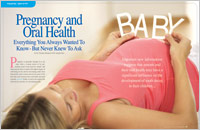 Pregnancy & Oral Health
Pregnancy is generally thought of as the time when a woman strives to be particularly aware of the need for "health". Many women though may not be aware of the link that exists between their oral health and their systemic (general) health, as well as the impact that many other factors can have on a developing child. Learn about how to care for yourself and your baby… Read Article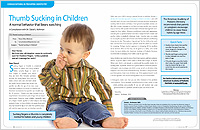 Thumb Sucking in Children
A normal behavior that bears watching… Read Article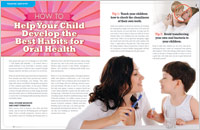 How to Help Your Child Develop the Best Habits for Oral Health
Proper oral health habits are easy to learn – and lead to behaviors that result in life-long dental health. And the time to begin is as soon as your child's first baby teeth appear. From tooth-brushing for your toddler to helping your teenager stay away from tobacco, Dear Doctor offers the most important tips for healthy habit formation through childhood and beyond… Read Article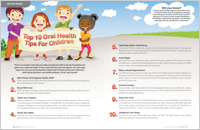 Top 10 Oral Health Tips For Children
There's no need to wait until your baby actually has teeth to lay the foundations for good oral or general health. In fact, good nutrition and oral hygiene can start right away. It is up to you to develop the routines that will help protect your child from tooth decay and other oral health problems. So let's get started… Read Article